Blog Image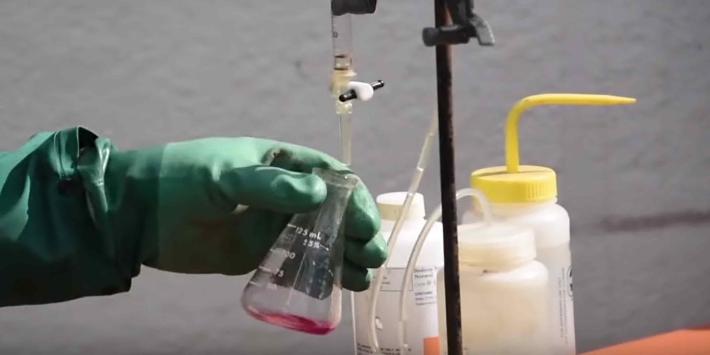 When you need industrial cleaning services, there is no better option than Thompson Industrial Services. We've garnered invaluable skills and experience after more than three decades of cleaning services.
Our company operates on three core principles that make us stand out from our competitors—safety, quality, and integrity. Through these values, our highly skilled and experienced personnel have developed a reputation for being best-in-class. That's why some of the largest businesses take advantage of our boiler cleaning services.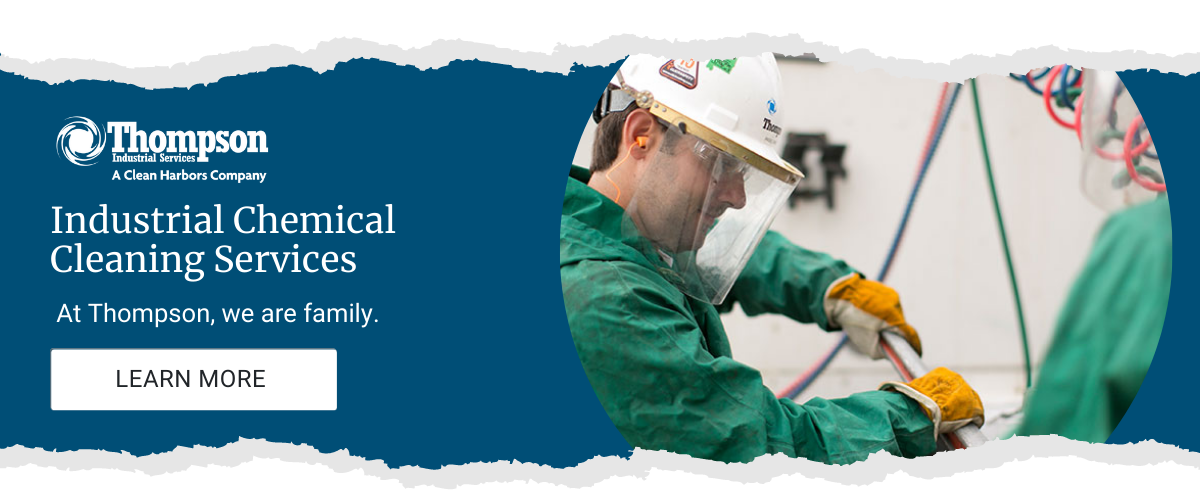 Why Do You Need Chemical Cleaning?
No matter the industry, companies want to maximize their efficiency. Over time, the use of boilers, tanks, reactors, turbines, and other devices build up byproducts that reduce efficiency. Chemical cleaning is the leading method for recuperating the losses without any need for disassembly.
Chemical cleaning is a safe, powerful, and guaranteed method to thoroughly clean countless systems. What's more, it's quicker and more efficient than other cleaning methods like hydro blasting. Chemical cleaning minimizes waste, saves time, and in the end, saves businesses money.
What We Clean
Through decades of experience in chemical cleaning, we've seen unique challenges come through our door that we've stood up and handled. We have an impressive array of equipment that our chemical cleaning teams can handle.
Pre-operation Cleaning Procedures
Lube Oil System Flushing
Cooling Water and Oxygen Systems
Plate and Frame Heat Exchangers
Reactors
Digesters
Degreasing, Pickling, and Passivation of Piping Systems
Scale and Product Pipe Cleaning
Evaporators and Economizers
Steam Turbines and Superheaters
Chemicals We Use
At Thompson Industrial, we only use safe and proven chemicals for cleaning. We've tested each product we use to ensure the results are up to standard regarding safety and efficacy. We may utilize all the following chemicals.
Hydrochloric Acid
Citric Acid
Phosphoric Acid
Formic Acid
EDTA
Copper Solvents
Inhibitors
Alkaline Degreasing
And more
Chemical Cleaning Experience
South Carolina Paper Mill
Recently, we were given the opportunity to clean the Number 1 Recovery Boiler at a major paper mill in South Carolina. Here's what happened.
We rolled out our chemical safety team to assess the conditions before designing a cleaning strategy with the use of custom chemicals. Thus, our team was able to efficiently remove the fouling from boiler tubes using the chemicals and specialty equipment.
Upon inspection of the boiler chemical cleaning, our team, and the mill's team, both concluded the project was completed. The cleaning was thorough, time was saved, and now, the business will see efficiency improve.
North Carolina Paper Mill
In another recent project, a client of ours had a liquor excursion contaminating their feedwater system. We performed complete efficacy tests immediately to determine the best route of attack. While no organic removal steps proved necessary, the challenge was still steep.
First, two boilers needed cleaning. Thanks to Thompson Industrials' talented staff, our experts had no problem stepping up and putting in the extra hours to meet the deadline. We performed several key steps to ensure our boiler cleaning was successful. The chemical team completed a copper removal stage, acid stage, and a passivation stage.
In the end, both boilers were cleaned to satisfaction and need. The resultant inspections and flushing performed came back clean and positive.
Chemical Cleaning Ability
Thompson Industrial takes advantage of leading experts in the field to provide safe and effective cleaning services. Our team has the experience needed to make critical decisions in real-time. What's more, with the best cleaning equipment in the market, there is no challenge we can't face. Our chemical cleaning team uses all the following equipment and more:
Mobile Labs with AA units
SS mixing Tanks
Filtration Units and Tank Trailers
Electric and Diesel Pumps producing up to 3,200 GPM
100 HP Boiler and Heat Exchangers
Skid units with Heat Exchangers and Filter Housing
Specialty Chemical Handling Equipment
Contact Thompson Industrial for any Chemical Cleaning Needs
As a long-standing business, we're leaders in the field of chemical cleaning. We employ full-time, expert chemical cleaners who aggressively take on challenges to minimize client's downtime and improve their efficiency.
Reach out to Thompson Industrial to inquire about a boiler cleaning service.
Related Articles
What you need to know about High Volume Hydroblasting - High volume hydroblasting is a variation of the process that uses a higher water pressure and more flow rate than standard hydroblasting. 
Ultra-High Pressure Hydroblasting Cleans Up at Thompson Industrial - Thompson Industrial Services offers that concept on a much grander scale with its ultra-high pressure cleaning services for industrial purposes.
Types of HRSG Cleaning - Pressure Wave Cleaning, High Pressure Water Blasting, Grit Blasting and CO2 Blasting will effectively clean your HRSG unit, restoring its performance.
The Benefits and Risks of Dry Ice Cleaning - When a non-toxic, zero residue cleaning process is available and just as effective, we always opt for it. Dry ice cleaning is one of those processes.