Blog Image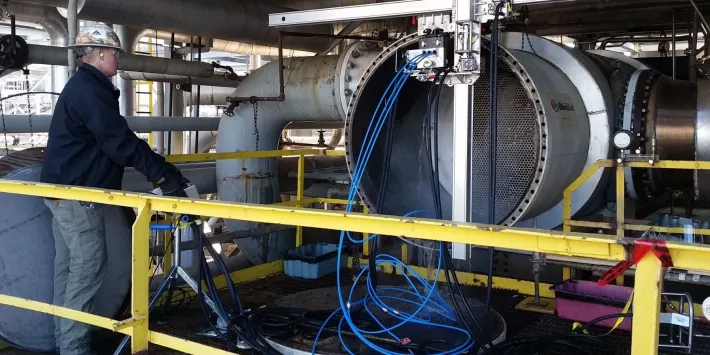 There are a variety of different types of industrial boilers, but all boilers work in very similar ways, converting water into steam. To ensure the efficiency of your industrial boilers, as well as prevent interruption of service, it's imperative to have maintenance and cleaning performed regularly. Here are some of the benefits of industrial boiler cleaning.
Industrial boilers are powerhouses that burn fossil fuels, such as oil or gas, and also use electricity in some cases. These systems produce hot water for heating buildings through a process called combustion with the addition of oxygen to turn coal into charcoal which then burns by releasing energy.
The Build-Up
Why Your Boiler Needs Cleaning
Cleaning Benefits
EPIC™ Cleaning
The Build-Up
Scale and soot develops naturally over time, and it is inevitable that it is going to end up in your equipment. It's a constant struggle to maintain the same output, as scale and soot buildup cause equipment to run harder. It doesn't take long before boiler surfaces are covered in scale. This not only causes more fuel and efficiency losses, but also leads to an increase risk for operational problems that can ultimately cause major issues down the line.
It's a small change that can have big consequences. When it comes to improving company efficiency, one of your main goals is reduce operating expenses - which means we should look at anything you're spending money on and find ways for this expense to not only makes sense but also to increase productivity.
Why Your Boiler Needs Cleaning
The primary concern is the heat transfer surfaces where scale builds up. The scale creates an insulating layer that reduces heat transfer and power usage, making the entire system less effective. If left untreated, even a small amount of scale can lead to an increase in fuel usage and significantly reduce overall boiler efficiency. Meaning, it does not take a lot of scaling to equal big problems and unnecessary expenses.  

Performance will start to suffer by putting off a total cleaning. To ensure the efficiency of your commercial boiler and prevent interruption to services, it is imperative that you conduct regular checks for maintenance.
Boiler Cleaning Benefits
Prevention
Maintenance and cleaning helps minimize over scale buildup thus preventing loss of heat. This prevents any production downtime, repairs, or replacement. The cost and danger involved in disturbances and explosions puts everyone at risk.
Energy Efficiency
High performance of boilers means ensuring the efficiency of your systems. Perform a checklist of each boiler system and its parts during regular maintenance. This can include checking for cracks, the integrity of tubes, deposits, or faulty electrical connections. A boiler is a complex machine with many moving parts. When you regularly 'tune' your boiler, it ensures that the burner and combustion are modulating correctly.
Safety
Since boilers are volatile systems using very hot water or steam under varying degrees of high pressure, as well as the use of gas and oil in some instances, boilers can explode causing serious injury, death and extensive property damage.  

Boiler systems use hot water and steam under high pressure, performing with the possibility that they can explode. Boilers can cause serious injury, death and extensive property damage. When it comes to the safety of your employees, as well a healthy working environment for them, regular maintenance is necessary.
Compliance
The National Boiler Codes specify that all commercial and industrial boilers must be checked by a licensed boiler contractor at least once a year for high pressure steam boilers and low pressure steam and hot water boilers every 2 years, although it is recommended by boiler manufacturers that you also have preventative maintenance checks.
Insurance
Insurance also requires strict compliance because of the potential risks involved to employees and property within range of the commercial boiler systems.
EPIC™ Cleaning
Thompson not only offers boiler cleaning, but with the use of the automated and remotely operated EPIC™ cleaning system, we make it extremely safe for personnel as well as the entire HRSG structure.  

The proprietary EPIC™ (Extraction Pressure Impulse Cleaner) cleaning system utilizes shockwave displacement energy generated from the patented IMPULSE® cleaner. The cleaning is coordinated via a remotely controlled navigation system with all personnel located safely outside of the HRSG cleaning unit.
Need Industrial Boiler Cleaning?
Are you in search of industrial boiler cleaning, HRSG cleaning, maintenance and services? When your boiler system is effectively cleaned, it will restore performance that was previously lost because insulating deposits. Thompson Industrial can help maximize your boiler's efficiency and performance while cutting your operating costs!