One of the hallmarks of our company is that we constantly look for new ways to expand our services. For many years, we've been gradually increasing the scope of our automated methods, applying them in more and more contexts as we improve the technology and modify it for additional uses.
FINFOAM is another service that is versatile enough to provide exceptional results in a variety of applications, and recently one of our teams demonstrated that fact in a powerful way at a power generation client's facility.
A Revelation for Air-Cooled Heat Exchangers
Expanding Application
High Client Satisfaction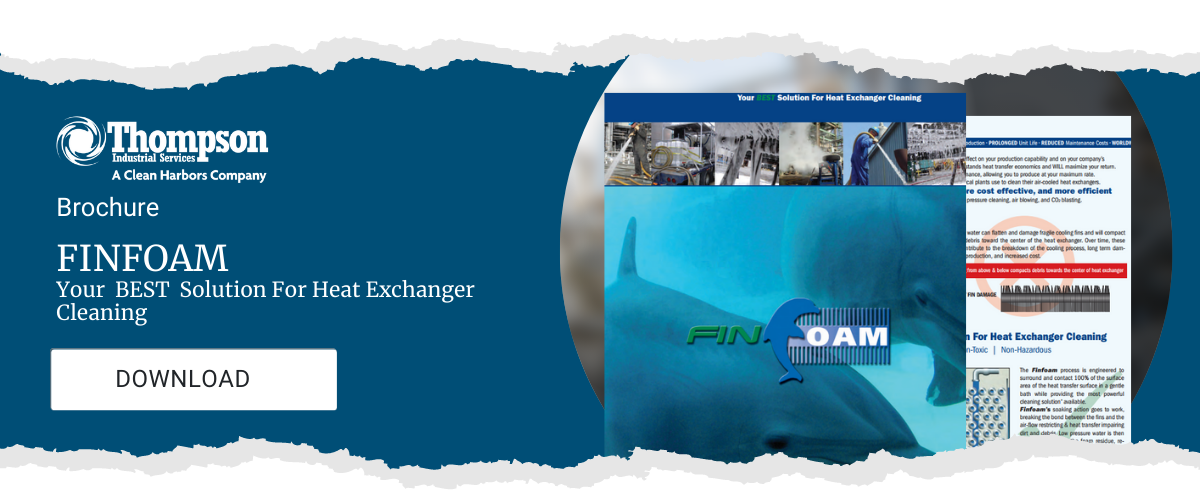 A Revelation for Air-Cooled Heat Exchangers
FINFOAM is certainly not a new concept for clients of Thompson Industrial Services. We have been using this proprietary technology to clean air-cooled heat exchangers and fin fans for quite a few years now, and our use of it increases throughout our service area as more site managers see the efficiency, environmental safety, and speed that it is capable of. 
Our unique approach uses a foaming agent that is completely safe for the environment, yet penetrates deeply into the system and captures dust, dirt, and other particles that negatively impact its efficiency. Once the contaminants are captured, a simple rinse removes them from the unit--all without risking damage to even the most delicate components.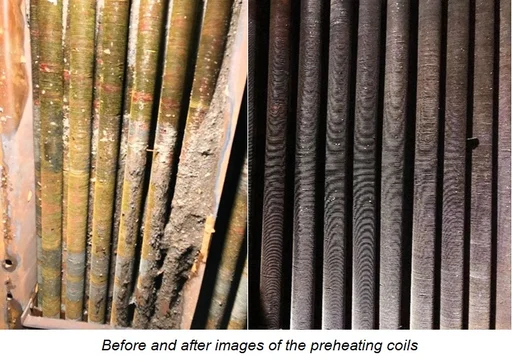 Expanding Application
During the second half of 2020, one of our Thompson Industrial Services teams was engaged to provide cleaning for pre-heater coils at a power plant. The team took the opportunity to put our flexible FINFOAM application to work in a fairly new context for this project, supported by plenty of project planning, testing, and research to ensure that this was the best, most efficient, and safest route to success. 
We often find that photographs tell the story best in a case like this, so within this blog post you'll find the before-and-after examples to show just how effective the FINFOAM method was in removing contaminants on the system. The difference is striking, and we think it shows clearly just how thoroughly this unique cleaning application accomplishes the task at hand.
High Client Satisfaction
It's always very gratifying to us when we hear positive feedback from our clients after leaving the job site. This project was a good example; the photos in this blog post were sent to us by the client to illustrate the great job that our team had done. The client was looking forward to running tests on the newly cleaned air preheater system and finding out exactly how much our service would save them in efficiency and power.
The client's note to us mentioned more than the technical success of the project, however. In a theme that is consistent across our client feedback, this manager made special note of how enjoyable it was to work with our people. The Thompson team set themselves apart with their level of knowledge, their absolute commitment to safety protocols, and their efforts to ensure that the job was completed to our own high standards. Best of all, the client assured us that they would be referring us to the other power plants in the system based on the success of this project!
Always Improving and Expanding
We are always excited when we are able to expand a great service like FINFOAM into a new application. We are already making efforts to take on more jobs like this one, increasing our partnerships in the power generation industry. Combined with our other powerful services tailored for success in this challenging sector, FINFOAM helps us deliver on our promises to provide the fastest, safest, and most effective industrial services possible.
Of course, our FINFOAM service continues to gain a reputation in its original application, cleaning air-cooled heat exchangers. In recent years we have applied our automated solutions to the service, accelerating the timeline of standard projects and also making it possible for us to tackle exceptionally difficult or hazardous projects without jeopardizing the safety of our team members.
 If you are a manager in the power generation field, or petrochemical plant, we would love to tell you more about these services, from pneumatic vacuum excavation with zero environmental contamination to automated hydro-cutting services that operate quickly and precisely in highly hazardous environments.