If you're looking for an efficient and environmentally friendly way to clean surfaces, sponge blasting is the way to go. Sponge blasting outperforms traditional cleaning methods in terms of both time and cost. Plus, it's much safer for both you and the environment.
Keep reading to learn more about why sponge blasting is the best choice for your next cleaning project!
What is Sponge Blasting?
Why use Sponge Blasting?
What are some benefits of Sponge Blasting?
Sponge Blasting Applications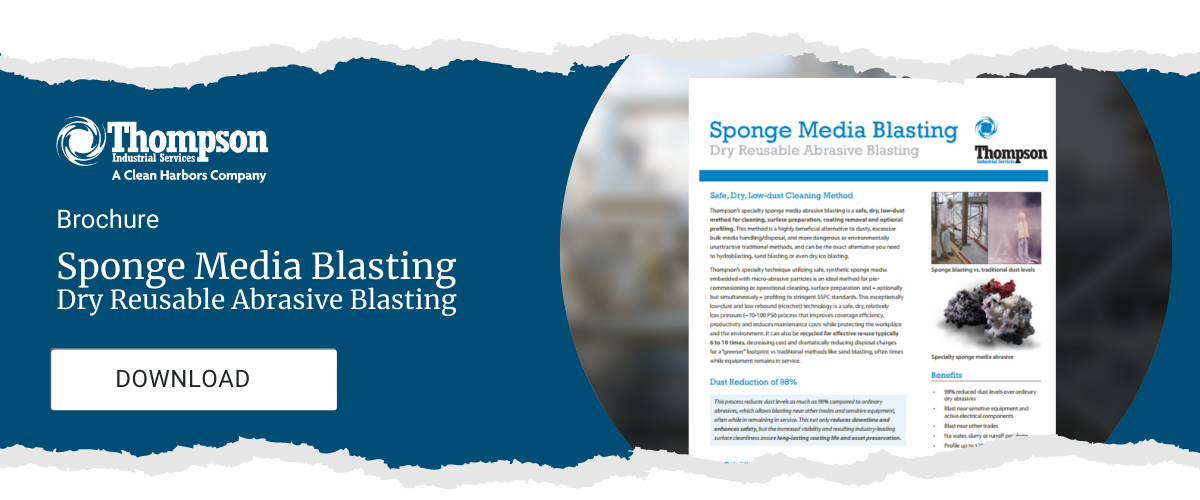 What is Sponge Blasting?
Sponge blasting is a multi-beneficial alternative to traditional sand blasting and other high-dust cleaning methods. Our system uses synthetic Sponge Media, which can be embedded with any one of a wide range of different abrasives to meet specific project needs from "soft" cleaning to achieving the toughest profiling specification.
By customizing the abrasive type and size to the project, our teams can offer sponge blasting even in sensitive environments such as nuclear power plants and food processing facilities. 
 
Why use Sponge Blasting?
Sponge blasting is also an extremely low-dust application, minimizing impact on the surrounding environment. One unique feature of sponge blasting is the ability to recycle the synthetic media up to 10 times, which both saves money for blast media and disposal plus reduces the impact of the service on the ecosystem even further.
Collection and recycling of media also means minimal cleanup following a project, with no effluents, runoff, or water to address. Finally, sponge blasting is incredibly thorough.
Even as it compresses project timelines, this service regularly yields better results than competing cleaning methods, getting pipes, vessel walls and surfaces "deep cleaned", which is especially beneficial for pre-coating application projects, in less time.
 
What are some benefits of Sponge Blasting?
Some benefits of Thompson's specialty Sponge Media abrasive blasting include:
98% reduced dust levels over ordinary dry abrasives
Blast near sensitive equipment and active electrical components
Blast near other trades
No water, slurry or runoff problems
Profile up to 125 microns
Recyclable 5-10+ times – reducing transportation & disposal costs
Extends new coating life & reduces future maintenance/downtime
Increases equipment reliability (such as rotating equipment & compressors)
Improved workplace health and safety
No chemical risks or effluents
 
Sponge Blasting Applications
Some applications for sponge blasting cleaning include:
Cleaning
Machine cleaning
Parts refurbishment
Interior and exterior wall
Exterior/interior pipe cleaning
Industrial Coating Maintenance
Railcars & mass-transportation
Water and waste-water plants
Petrochemical facilities
Power plants
Marine vessels
Food processing
Pulp and paper mills
NDT etc. inspection prep.
Decontamination (Nuclear power generation)
Low-level decontamination
Steam generator parts/tools

Stainless steel turbines
Reactor coolant piping
Turbine Rotors
 
Sponge Blasting at Thompson Industrial
Sponge blasting, as one of our newer service areas over the past 5 years, has been achieving substantial advancements for Thompson Industrial Services' customers in many compelling, beneficial ways.
As a versatile low dust cleaning method with a very favorable environmental impact, sponge blasting provides many of the same general benefits as other conventional services: it achieves equal or better results than competing methods, in less time, and with shorter cleanup times.
Also in keeping with many other Thompson services, our sponge blasting teams can often apply our automated positioning systems to accelerate the process even more and keep personnel at a safe distance during cleaning. 
 
Success Story #1: Boiler Tube Striping
Boiler tube striping is a process that is little known outside certain industries, but it is very important nonetheless. Striping, traditionally accomplished through sand blasting, allows for inspection of boiler tubes after cleaning by NDT and/or other crucial means to determine their thickness and structural integrity.
In Kentucky, a client of ours managing a power plant asked our local division to try out sponge blasting instead to see if they could achieve similar results without so much dust and cleanup.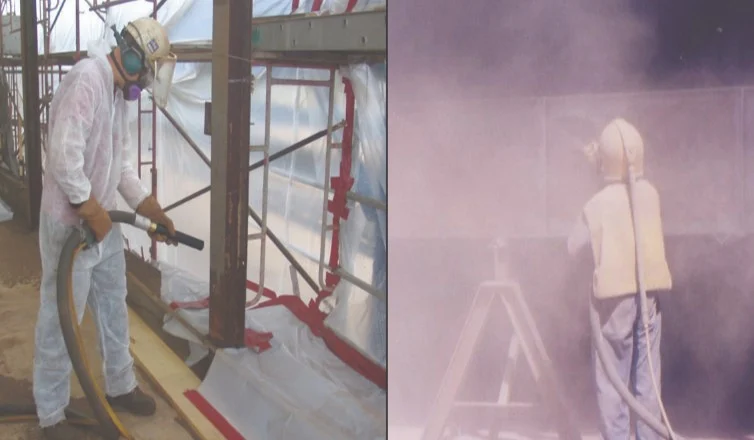 Sponge blasting versus traditional dust levels
Our team assessed the project, made the appropriate selections of abrasive type and pressure levels, and got to work. When the "dust had cleared" (metaphorically, of course!), the project had been completed to an equal or superior degree than the sand blasting method had provided. As the client had hoped, the sponge blasting method eliminated the need to contend with and clean up large amounts of effluent following the project, which saved a significant amount of time for the project as a whole. Another time-saving benefit was the fact that other boiler maintenance contractors could simultaneously continue working in the area, which shortened the overall outage schedule..
Needless to say, our client was very pleased with the outcome of the project! They indicated that they plan to use the sponge blasting service for boiler tube striping moving forward due to its significant time and cost savings over the previous sand blasting method.
 
Success Story #2: EO Railcar Cleaning
One of our divisions recently took on a project for a client that involves the use of automated sponge blasting to clean ethylene oxide (EO) railcars. In their first review meeting with the client after launching the service, our project managers were told that the Thompson team had distinguished itself so far through attention to detail, adherence to safety protocols, knowledge, and general great attitude, among other positive attributes. The good experience so far with Thompson has already prompted the client to initiate more work with their local division on the site.
Check back next month for more great success stories and more information on how Thompson Industrial Services' sponge blasting application can save your facility time and money while protecting your equipment, your people, and your environment.
 
Looking for Sponge Blasting services?
Thompson Industrial Services' sponge blasting application can save your facility time and money while protecting your equipment, your people, and your environment.
Thompson's specialty Sponge Media abrasive blasting is a safe, dry, low-dust method for cleaning, coating removal and optional profiling – frequently as a highly beneficial alternative to more dangerously or environmentally unattractive traditional methods.