Regardless of what criteria is utilized to determine when to clean your HRSG, it's imperative to select the optimum methodology for maximum effectiveness and benefit.   An exceptionally effective, proven and safe technique incorporates focused, targeted pressure wave impulse technology applied at Mach- 5 speed utilizing EPIC® (Extraction Pressure Impulse Cleaner) technology.
This patented process was developed and perfected for HRSGs after 15 years of success and experience with its on-line IMPULSE® counterpart with hundreds of boiler installations, including HRSGs and up to 900 Mw boilers. EPIC's similar off-line technology and its unique remote-controled navigation positioning equipment, directly focuses localized energy into the finned tube bundles to ensure its deep, penetrating and 360 degree effectiveness reaches and cleans all the crucial heat transfer surfaces without superfluous, omni-directional and  indiscriminate blasting or explosions in areas  that are non-essential to regaining HRSG efficiency and performance.
When the EPIC® process is utilized for your HRSG cleaning needs, you'll be rewarded with reduced CT back pressure, fuel costs and exit stack temperatures as well as overall increased efficiency, and much more.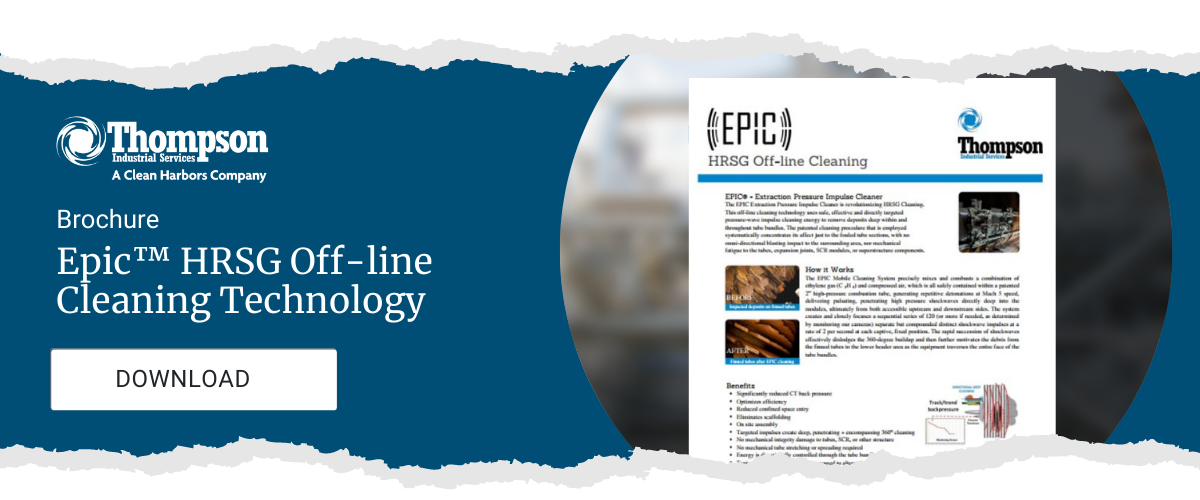 Improving HRSG Performance + Efficiency
Over time, finned tubes in HRSGs can become excessively fouled due to combustion-side deposit formation, most commonly with rust caused by dew point, ABF or ammonia salts transporting downstream of the SCR as well as off-line condensation, especially at the LP economizer cold end.
Fouled HRSG tubes penalize plant performance in several ways, such as decreasing heat rate by reducing heat transfer, increasing back pressure of the gas tur- bine and resultant fuel costs. Reduced heat transfer efficiency also reduces the net output of the steam turbine and increases exit stack temperature. This results in extra cost and lost revenue from restrictive MW output and/or reduction in steam generation. HRSG cleaning is an effective way to restore lost performance thereby increasing the net power output.
However, extreme caution choosing the HRSG cleaning methodology should be employed to consider the potential long-term secondary mechanical effects on the tube integrity, welds, superstructure and duct work impact of the method selected. The EPIC® cleaning system, with safe, targeted, isolated and controlled cleaning pressure will not subject the HRSG to these secondary effects.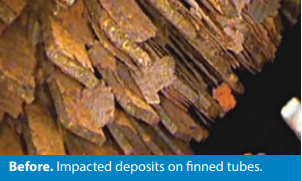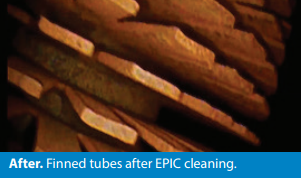 Not Optimizing HRSGs' Performance Can Be Costly
When a  plant's HRSG is effectively cleaned, it will help restore performance that was previously lost because of restricting and insulating deposits that have resulted in increased CT back pressure (thus output) and fuel consumption. This back pressure is most frequently the result of oxidation and/or ammonia-residual salt deposits that gradually build up and affix themselves to the close-tolerance finned tube surfaces during operation, which is standard, particularly after 5-15 years of operation, although some units require annual off-line cleaning due to their unique conditions
Oftentimes, CT recovery can be 3-6" or more, which can yield a payback in 2-4 months of operation depending on circumtances. However, without proper cleaning, HRSGs can experience increased back pressure resulting in the overall heat rate worsening and loss of efficiency, which may even cause de-rating in peak demand periods.
Factors leading to high operating costs:
Lack of optimum cleanliness of crucial heat transfer surfaces downstream of the SCR 
Increased CT back pressure/decreased generation because of excessive deposits
Increased fuel costs due to otherwise unnecessary use of duct burners or excessive firingWasting Btu's going up the stack rather efficient convection-transfer to the of tubes
Requiring excessively more outage duration to attempt cleaning by other methods rather than getting back on-line quicker
Due to the expense and duration of certain other methods, cleaning intervals may be excessively delayed and/or less than the optimum quantity of harp modules are cleaned during an outage
EPIC® Cleaning System
The Extraction Pressure Impulse Cleaner is a state-of-the-art cleaning technology invented and patented by PowerPlus Cleaning Systems with Thompson Industrial Services as the exclusive provider of the service. The technology is based on a process originally patented by GE (but now owned by PowerPlus Cleaning Systems) and is used for off-line cleaning of HRSG units. This system has passed the test of time for both on-line boiler-cleaning— with  15years of use— and highly successful, cost-effective off-line cleaning over the last few years.
EPIC® Overview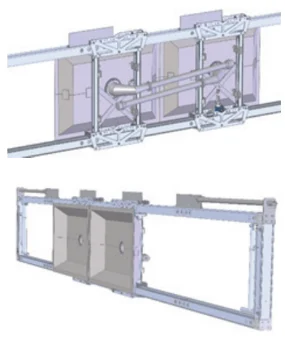 The EPIC®™ pressure wave system was designed to improve current HRSG cleaning methods and do so quite effectively without damage to any HRSG component or need for tube stretching, even to gain access into modules with harps that are up to 22+ tubes deep.
The pressure waves are created within our integral 2" combustion tube (i.e. as contrasted to open-air blasting) utilizing hundreds of millisecond injections of ethylene gas and air, then directly focused into the tube bank from its accessible face utilizing a suspended traversing horizontal carriage system across the entire "X" & "Y" axes, then repeated from the opposite side as well. Virtually no other alternative method incorporates the superb and elite standards and controls established by this EPIC® system.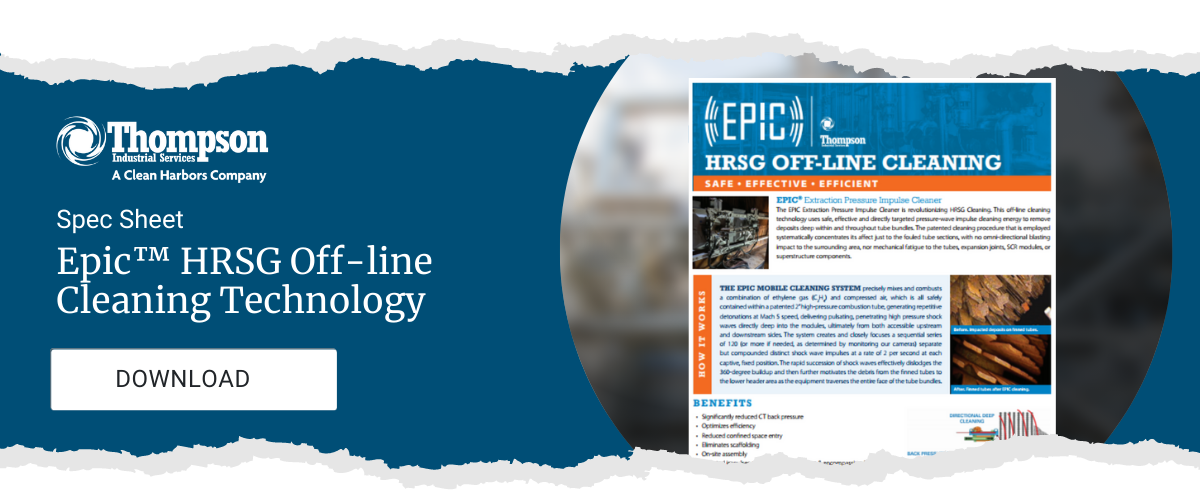 How EPIC® Works
The EPIC® system incorporates a special control device called IMPULSE®  (internationally patented), to deliver high-pressure (<40 PSI) cleaning pulses focused and targeted circumferentially, concentrating only to just the troublesome heat transfer surfaces. Essentially, the system uses air shockwaves that penetrate the tube banks to externally dislodge (i.e. "extract") foreign deposits; incidentally, the hundreds of focused, reverberating shockwaves will have zero effect to the inner tube such that exfoliation of (water-side) scale deposits cannot and will not occur or become an issue. Also, the tubes can either be empty or drained at the time of cleaning. 
The overall cleaning system and navigation equipment are  remotely controlled  from outside the HRSG in Thompson's 20' mobile command center. The personnel navigating the cleaning system can maneuver the system in nearly all directions to assist working around obstructions such as tube ties, and place the system in the correct spot to clean the finned tubes and free them of the insulating deposits.This is further enhanced and optimized by real-time, constant observation of the actual cleaning operation from 3 camera views, plus the client can simultaneously observe as well from a 52" monitor.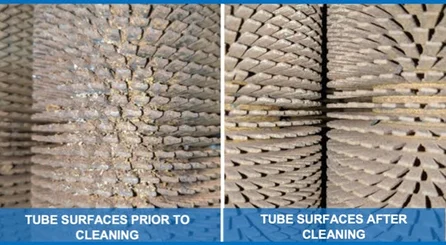 The Benefits of Using EPIC®
Deep, thorough 360-degree cleaning of the critical tubes and fins
Zero damage done on any parts, components, welds, expansion joints, refractory or instruments
No shock or superfluous, indiscriminate blast impact to the rest of the HRSG unit including the SCR and CO catalyst
Highly technologically advanced;  3 360-degree camera views from command center; remote bundle back-feed pressure monitoring; multiple fail-safe features  
Personnel are totally remote from the operating system
No scaffolding required
Reduced downtime for cleaning
Reduced CT back pressure
Improved heat rate efficiency/decrease stack temperature
Potential for a single contractor for tube-cleaning and crucial post-job vacuum clean-up utilizing Thompson's comprehensive service offerings
Overall financial gain
Optional drone inspections
Why Choose EPIC®® Over other Methods?
Safe for your entire unit:
EPIC's impulses are highly targeted though the tube bundle and do not cause any damage to the mechanical integrity of the tubes.  Plus, there is no violent shock or omni-directional blast impact to the HRSG structure.  In addition, the tubes will never be stretched or spread, and the process has several fail-safe features.
No Pre-Cleaning Work: 
No scaffolding or tube spreading is required, or other modifications are necessary (or minimal if any) to gain access for cleaning.  Exceptionally limited site support resources are needed.
Reduced Cleaning Time:
Utilizing the advanced EPIC technology, with remote positioning and activation of the IMPULSE cleaning equipment with real time video monitoring of the cleaning in action, results in reduced overall outage duration as well as confined space exposure compared to several other methods.
The service can also be completemented by the post-cleaning removal of the considerable dislodged debris by incorporating Thompson's own vacuuming equipment and personnel, rather than orchestrating arrangements with another contractor for the turnkey HRSG cleaning project.
Case Study
A case study performed at a large combined cycle plant in Florida examined the benefits of EPIC®® technology on a Nooter/Eriksen HRSG unit. What the study found was quite impressive. After a cleaning only 5 of 8 "faces" with the EPIC® technology, the HRSG unit experienced a decrease in CT backpressure by 4.5 inches of water column.
This correlated to a decrease in heat rate by 0.5 MMBtu/MWh. These impressive results yielded a payback in 1,010  full-load hours in payback, which equated to roughly $600,000 per year in this instance.
| | | | | | | | |
| --- | --- | --- | --- | --- | --- | --- | --- |
| Location | # of HSRGs | Faces Cleaned | CT Reduction | MW Increase | Fuel Eff. Improvement | Heat Rate Improvement | |
| Florida | 1 | 5/8 | 4.1 iwc | 6.14 MW | 4.6% / CT | 500 BTU/KW-hr |   |
| South Carolina | 2 | 8/8 | 3.72 iwc | 1.27 MW | 0.74% / CT | 68.5 BTU/KW-hr | $624k the First Year |
| Arizona | 2 | 5/8 | 2.4 iwc | 1.76 MW | 1.15% / CT | 140 BTU/KW-hr | $875k the First Year |
Conclusion
Every business in every industry should be planning for the future. To do so, they must all look to the newest technology, so they can compete and excel. For combined cycle plants, that means looking towards EPIC® technology. With proven results, EPIC® technology offers everything a combined cycle plant could target for; improved cleaning, safety, decreased downtime, zero damage, and an optimized HRSG unit.
If you want to improve the efficiency of your HRSG unit while saving money, request a consultation with Thompson Industrial Services to find out more about implementing Thompson's EPIC® technology and service at your plant.