3 Features of the Thompson Industrial Heat Exchanger Cleaning Solutions
BLOG HYDROBLASTING
Blog Image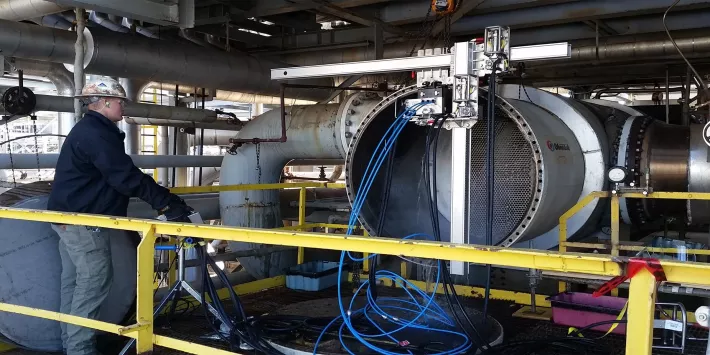 At Thompson Industrial Services, we have been offering heat exchanger cleaning services based on automated systems for nearly two decades. Our company's long-term goal has been to make our hydroblasting services 100% hands-free, relying on robotic positioners and remote control to perform incredibly quick, complete hydroblasting for heat exchanger and other complex equipment.
We're excited to be nearing that goal, thanks to the development of some very sophisticated tooling and accessories.
In this blog post, we give you a little closer look at our heat exchanger cleaning methods by identifying three key features of them.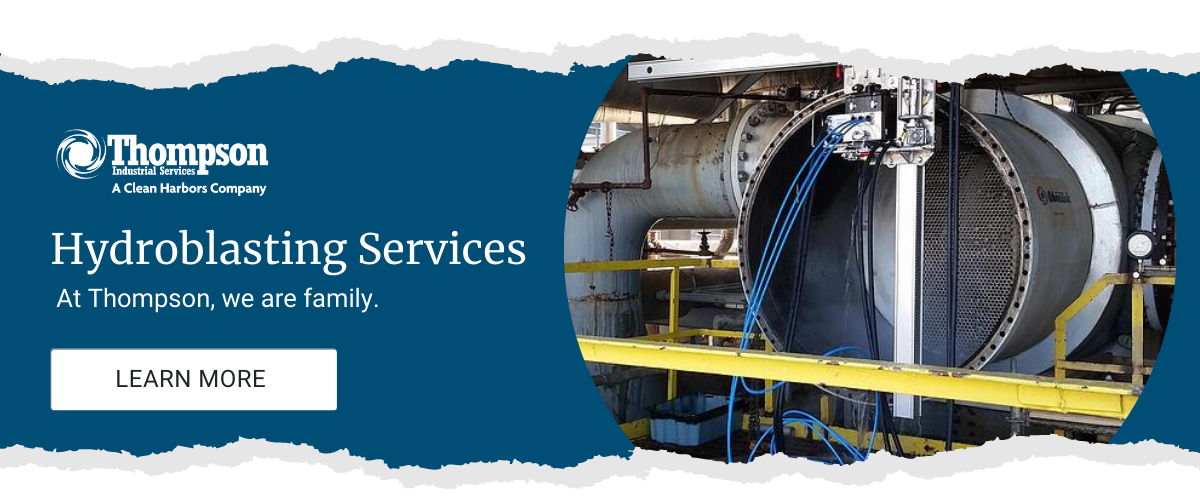 1. 3-D Nozzle Rotation Mechanism 
One of the main reasons that heat exchanger cleaning has traditionally been a very time-consuming task is that each tube in a bundle must be individually cleaned. Cleaning each tube with a handheld lance is a tedious process and must progress relatively slowly for the sake of the safety of the technician.
Because our heat exchanger cleaning procedure uses a hands-free lance, we can also attach a 3-D nozzle rotation mechanism, which sprays in all directions at once as the lance moves through each tube. Because cleaning occurs during both the "advance" and "retreat" of the lance, the cleaning is much more thorough than that provided by a manual approach, which must use a single-direction nozzle.  
2. Robotic Positioners 
The robotic positioners, which actually hold and direct the hydro blasters during a heat exchanger cleaning, give us many important advantages over traditional methods. First, they dramatically reduce the safety risks that we must protect against when a human technician is working in proximity to the equipment and hydro blasters. This is an even more valuable advantage when access to the heat exchanger is restricted. Our robotic tooling can easily fit into small spaces that would be impossible for a human technician to access. 
A second advantage is that our robotic equipment can manipulate multiple lances and clean multiple tubes at the same time. This fact alone can cut cleaning times by half. Finally, using robotic tools instead of handheld equipment often allows us to perform a heat exchanger cleaning in a fraction of the downtime. Because downtime represents a significant portion of the total expense for most industrial equipment cleaning, this is an extremely valuable feature that we are proud to offer to our clients. 
3. Powerful Water Pumps 
The third key feature of our heat exchanger cleaning solutions is the water pump capability that we bring to each job. Our pumps, so large that each one is carried on its own tractor trailer, provide water at a flow rate of up to 1,200 gallons per minute, supplying our automated hydroblasting equipment with all the power it needs to completely clean boilers and other large industrial units.
Our project managers and teams of technicians have been working with our specialized pumps for decades, cleaning heat exchangers and other industrial equipment such as boilers, frac tanks, and other vessels that present great difficulties for older cleaning methods. This powerful cleaning equipment makes routine maintenance minimally disruptive, and brings cleaning projects that were previously impractical or prohibitively expensive well within reach.
Facilities all over the Southeast and elsewhere in the United States now rely on our automated heat exchanger cleaning process and other cleaning services, recognizing their huge advantages over outdated methods. Automated systems make heat exchanger cleaning exponentially faster. 
Other Hydroblasting Applications 
While our high volume hydroblasting is ideally suited to cleaning heat exchangers, boilers, and other equipment, some applications call for a different approach. For surface preparation and removal of floor coatings, for instance, our robotic positioners manipulate high-pressure hydro blasters that quickly and safely strip away even the toughest materials.
At the highest pressure, our hydroblasting equipment is capable of making precision cuts in concrete and steel. As with our heat exchanger cleaning, by giving our technicians remote control of the water blasting equipment, we keep them safe and accomplish these challenging jobs with unprecedented speed. It would be our pleasure to explain more of our hydroblasting capabilities and go into more detail with you on how we can use them to solve your most difficult industrial equipment cleaning challenges. 
Please email or call us today to schedule an appointment with our experts.