Vacuum-Excavation Services: "Potholing" and Other Tasks
BLOG
Blog Image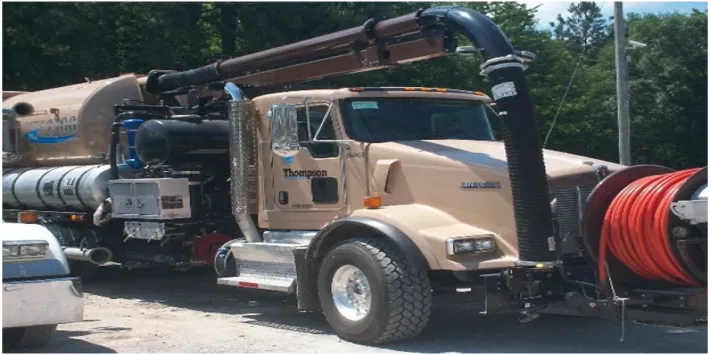 The word continues to spread about the multitude of benefits from Thompson's vacuum-excavation services. Industry magazines have published stories about them, and clients that have had our teams perform excavation projects for them regularly refer us to others. What is so different about what we do? Our approaches to safe digging—often times referred to as "daylighting"—which utilize either semi-high pressure water or compressed air strategically in harmony with our vacuuming service safely in lieu of intrusive heavy equipment (AKA "yellow iron"), which allows us to do what used to be extremely impractical or dangerous: dig in areas that may have buried utilities without causing any damage to even delicate wires and cables. Using a recent successful project as an example, we'd like to introduce you to the huge benefits that our pneumatic and hydro vacuum excavation services provide for our clients.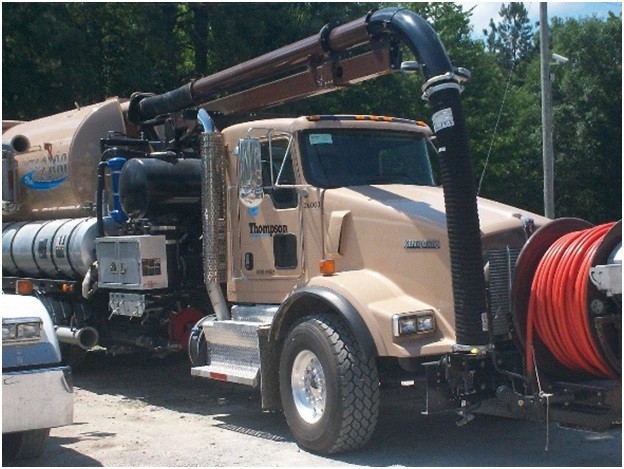 One of our vacuum excavation trucks
Anticipating Buried UtilitiesMany times, a client of ours needs to excavate a site in order to begin construction, but can't risk damaging water pipes, gas lines, buried power cables, communication wires, fiber optic cables, or the many other utilities that run below the surface of the ground. Prints of these sites may be long outdated or simply incomplete, if they exist at all. This was just the case at a port on the coast of North Carolina, where a client needed some "potholing" done to prepare for the construction of a new structure. Our team got to work digging the holes, and after just a few days of work, we discovered the same fact that we discover on almost every vacuum-excavation job: there were, indeed, buried lines that no one knew about. Thanks to our process' gentle and non-aggressive technique, the lines were readily exposed but not harmed whatsoever, and the client was able to avoid the expense and project interruption that would have occurred if traditional digging equipment had been doing the work.Keeping it ContainedWhile our work at the North Carolina port was in a relatively open area, our pneumatic vacuum excavation services often operate in much tighter circumstances or even remote distances from our vacuum truck. Within the context of a nuclear power plant, for instance, clouds of dust from mechanical excavation dumping or generating mud from hydro-excavation may not be ideal or even acceptable. The "vacuum" element of our excavation services helps our team keeps the radius of the excavation very small, minimizing the effect of the work on the surrounding area. With pneumatic-excavation, our compressed air tools dislodge the soil loose and to the proper, size, complemented by vacuuming the debris immediately and either dispose of it or store it for use as (dry) backfill when needed for same.Hydro-Vacuum Excavation ServicesHydro vacuum excavation is the complementing partner technique to our pneumatic approach. In some cases, using pressurized, low volume water instead of air is more effective—for cutting through rocky soil, for instance—while still safely exposing buried utilities. Generally, hydro-vacuum excavation incremental rate is faster than the pneumatic version, but in many specialized situations, the introduction of water complicates the project or task at hand. It can make it difficult, for example, to shore up the sides of an excavation site, and if electrical lines are involved, the conductivity of water is a serious concern. Another significant benefit of utilizing a dry (i.e. with air) process is the ability to "step down" the terrain slope and thus minimize shoring, plus readily permitting work in a dry trench without the mud to contend with, not to mention the ability to backfill with the extracted matrix immediately without having to wait for it to dewater and dry out. In these situations, the slightly slower pace of pneumatic-excavation is a great trade-off for the benefit of the increased safety, feasibility, and stability during the digging project.Repeat ClientsThere is one unmistakable sign that our pneumatic-vacuum excavation services are getting the job done right, and that is when a client calls us again to do additional work. After we completed the potholing job at the North Carolina port, the client asked us to take our vacuum-excavation services to some of their other job sites to perform similar work. Once a company sees firsthand the safety, efficiency, and financial benefits of this unique digging approach, it is very common for managers and field supervisors to develop an ongoing working relationship with Thompson Industrial Services for other excavation needs.
Pneumatic excavation truly shines when we put it to work in settings that seem to make digging all but impossible. If you have been puzzling over an upcoming excavation project at a nuclear plant, another highly sensitive area, or a site that has no reliable information concerning buried utilities, we hope that you will email us or give us a call. Our vacuum-excavation services may be the perfect solution for your difficult problem. We look forward to telling you more about them as well as our many industrial equipment maintenance and emergency cleaning services.
Press Contact
Emily Martin
Marketing Manager
100 N. Main Street
Sumter, SC 29150
(803) 773-8005