Some of the most powerful client outcomes we have seen here at Thompson Industrial Services, particularly in terms of safety and efficiency, come out of our pneumatic and hydro vacuum excavation division. It's not difficult to imagine just how broad the range of situations is that can benefit from excavation equipment that uncover buried lines without damaging them, and our teams have been on site in many of those contexts across the country.
Clients are highly motivated to find safe alternatives to conventional excavation whenever possible, driven by sobering facts like these:
Over half of all power cable outages are traced back to conventional excavation equipment damage.
The Waterjet Technology Association reports that over 40% of pipeline system leaks and ruptures are the result of damage by outside forces, including excavation equipment.
Damaging lines during conventional digging places workers at risk of injury and death.
Advancing communications and utility technologies lead to the presence of a huge number of different buried lines, from cables and fiber optics to gas transfer and process lines, all of which are at risk of damage during conventional digging.
In this blogpost, we introduce you to two examples of recent projects for which our safe digging application was a perfect fit.
Solar Field Service
The main focus of a solar energy production facility is, of course, above the ground, where the sun's rays shine on huge arrays of photovoltaic cells. But many miles of cabling and other infrastructure are needed below the surface to carry the resulting energy to the grid and to support the overall functioning of the plant. Our team at Thompson was able to contribute their expertise and safe digging equipment during installation of a solar field and also in ongoing maintenance work.
When an issue arises with a buried line on the site, using our hydro and pneumatic excavation equipment to find and uncover the trouble spot is much safer and more efficient than putting metal blades into the ground. In fact, more than half of all power cable service outages are caused by damage suffered during excavation using conventional equipment. Eliminating that possibility for damage is a huge advantage!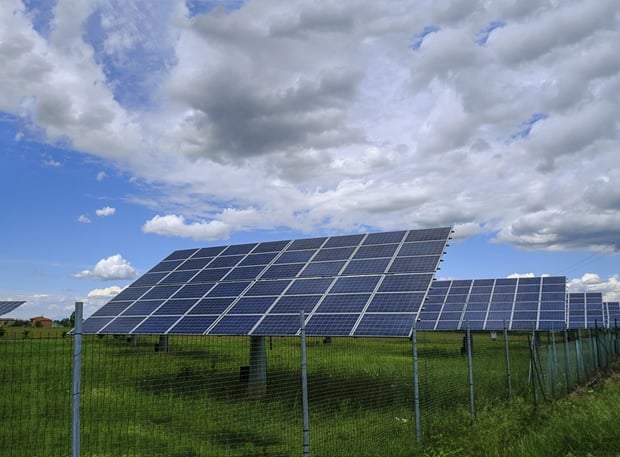 Thompson performs safe digging for solar fields.
Streamlining With a Single-Source Partner
One of the factors that our clients value most about Thompson Industrial Services is the breadth of our list of services. While boiler cleaning, hydroblasting, and chemical cleaning services represent the core of what we do, we also offer many specialty services that can be just as valuable to the client facilities that require them. From industrial drone inspections to dry ice blasting and EPICⓇ off-line HRSG cleaning, we strive to offer services that truly span the entire life cycle of an industrial facility.
Our partnership with a power company in North Carolina is a great example of how our variety of services helps save our clients money and time. When this client needs a "delicate dig" performed before they proceed with standard excavation equipment at a potentially sensitive site, it is very convenient for them to engage a supplier that is already "in the system" and is performing other functions for them--that is, Thompson Industrial Services. Facility managers also have a very high degree of confidence in Thompson's ability to provide pneumatic and hydro vacuum excavation services since they are familiar with the integrity, expertise, and strict adherence to safety protocols that our teams display on every job.
Safe/Delicate Digging for Pipelines
As more current and potential clients across our service region learn about our pneumatic and hydro vacuum excavation capabilities, we see an enormous amount of potential for new types of projects. One of those exciting opportunities that is taking shape at the moment is excavation for methane gas pipeline placement along highways. Depending on the soil type, our teams elect to use either hydro vacuum (for clay soil) or pneumatic vacuum (for class C soil) excavation to quickly and cleanly remove soil, then replace it after the pipeline is installed. This service meets the requirements for efficiency and minimal disruption that a project like this has, and we anticipate that our safe digging division will continue its busy schedule as more clients choose to take advantage of its powerful benefits.
Stay connected with Thompson Industrial Services to discover more stories about successful projects that save money for our clients, as well as white papers, case studies, and other materials that provide more technical detail on our groundbreaking processes and equipment. As always, our expert management teams are ready to meet with you to consult about your facility's unusual or sensitive project needs and inform you about the solutions that Thompson has available. We hope to meet you soon!