At Thompson Industrial Services, people always come first. That's more than just a nice thing to say; it plays out in real, concrete ways across our entire company–and beyond. This month on our blog, we'd like to let you know about two recent events that illustrate the commitment that all of us here at Thompson have to putting people first.
While these two events are a very public way of helping people in the communities where our teams work every day, the truth is that within our company, whether in our corporate headquarters in Sumter, SC or on site at our clients' facilities around the United States, we are always doing things to make people–both our team members and those of our clients–the priority.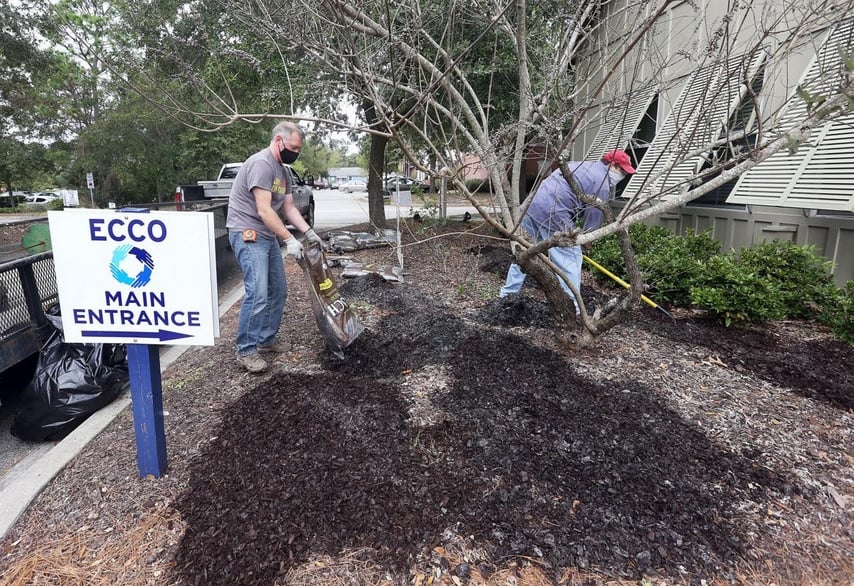 Thompson team members participate in the 2020 Day of Caring at ECCO in Mt. Pleasant, SC
2020 Trident United Way Day of Caring
The Day of Caring event is a great initiative by the Trident United Way that, appropriately enough, celebrated its 20th anniversary in 2020. Partners of the United Way, including Thompson Industrial Services, observe this special day by contributing their time and energy to helping charities, schools, and other organizations that serve the community with much-needed services all year round.
This year, Thompson pitched in by sending a team and materials to the East Cooper Community Outreach, a great center that provides hugely valuable services to those in the Mt. Pleasant, SC community that need them most. Our folks had a great time volunteering along with our colleagues at Nucor Berkeley to improve the landscaping, parking lot, and other infrastructure around the site.
BASF Charity Golf Tournament
Another great event, also coordinated by the United Way, was the BASF charity golf tournament. The divisions of Thompson Industrial Services have a long history of participating in golf events with partners around the United States…and performing quite well in them, if we do say so ourselves!
This time around, a 10-person team of Division 60's most skilled golfers helped BASF, our great partner in Louisiana, to raise about $65,000 for local charities. As always, it was a fantastic time with great friends, great golfing, and a great feeling knowing that we were able to make a significant difference in the lives of families in the area.
Putting People First All Year Round
We often reference our corporate motto, "Be safe, be good, be great." The fact that "Be safe" is the first part of that motto is not random! Rather, it's a powerful reflection of the fact that in all of our efforts to make our services more convenient, more cost-effective, and more valuable for our clients, we always keep one goal as the ultimate priority: getting every Thompson team member home at night safe and sound. That commitment also extends to the great people that work at our clients' sites.
Just as we have done in the area of automation, our leadership at Thompson has guided our company in taking the fullest possible advantage of today's technology to empower our company-wide safety system. This system gathers enormous amounts of data from all of the projects that our teams execute across the country, analyzes that data, and produces reports and metrics that our managers use to further refine our processes and mitigate more risks as we move forward.
Making Our Employees the Very Best
But keeping our people safe on the job, as critical as that is, isn't enough for us at Thompson. We also believe it's important to give each employee as many opportunities as possible to develop their own unique set of skills, talents, and perhaps undiscovered potential. To that end, Thompson offers team members a wide range of ongoing education, training, and leadership boot camp opportunities, led by instructors that are leaders in their fields.
We know that when we put people first, whether that's by doing everything we can to ensure their safety on the job, giving them chances to build out their unique abilities, or contributing what we can to help the communities that surround our regional offices, we make our corner of the world a better place for everyone. We feel incredibly privileged to be able to do that, and we so appreciate all of our corporate partners that join us in our mission to put people first.