"Safe Dig" Vacuum-Excavation Services Help Avoid Disaster
BLOG
Blog Image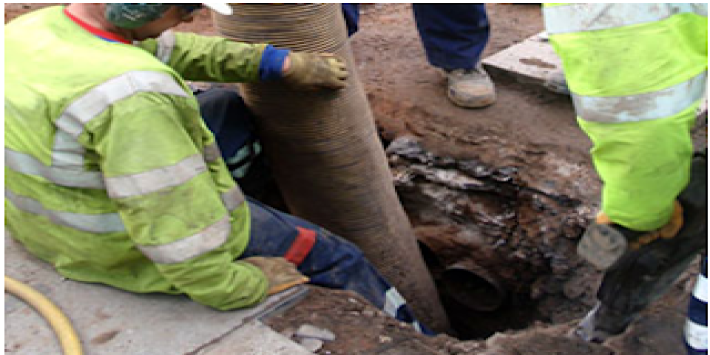 We can clearly explain to you the benefits of high pressure water jet cleaning, cryogenic cleaning, and vacuum-excavation services, but there's nothing like telling you the story of a successful job—real-life proof that these creative approaches really do save time, money, and headache for our clients. We have one of those stories for you today, although we've taken out specific names and locations for the sake of our valued clients' privacy. 
We Still Can't See Underground 
A major utility provider in the southeastern United States was embarking on a very large building project, which involved digging for footers in an area without absolutely reliable records of what lay beneath the surface of the ground. The devices that are normally used to detect water pipes, gas lines, and electrical lines underground aren't always totally accurate, and there are some newer lines that the radar or sonar,doesn't detect. To be safe, managers on the project decided to have our team use vacuum-excavation services instead of cutting into the ground with heavy equipment. 
Caution Pays Off 
Our technicians went to work, and it wasn't long before everyone realized that the managers had made the right decision. The excavation uncovered a cable that no one had expected to find, and on further inspection it proved to be an important fiber optic cable belonging to another large company in the region. The cable was not damaged by the vacuum-excavation method at all, but a backhoe bucket would have caused a very expensive, embarrassing disaster!
Our client was very grateful for the safety and speed with which our team worked, and the discovery of the fiber optic cable showed that it paid off to choose an alternative excavation method. If you are facing a construction project in an area with unclear, outdated, or nonexistent records of underground utilities, ask us about the great solutions we have to offer. 
Vacuum Excavation Services 
Our vacuum excavation services combine power and flexibility for an approach that serves our clients exceptionally well.  When we encounter unexpected conditions, our teams know how to re-assess the situation, consider alternative equipment and techniques, and decide on a new approach that will get the job done despite the new factors that they must take into account.
We invite you to ask us for more information about our pneumatic and hydro vacuum excavation services.
Please email or call us today to schedule an appointment with our experts.