It's not surprising to anyone that the COVID-19 global pandemic changed things at Thompson Industrial Services. Practically every organization in any industry was deeply impacted by the once-in-a-lifetime event and was forced to take special measures to keep its employees, customers, clients, and colleagues as safe as possible. At Thompson, though, we felt a special responsibility to respond to the health crisis in a particular way.
With our decades of history in industrial equipment cleaning and maintenance, our teams were uniquely positioned to pivot and begin offering coronavirus disinfecting services to both our existing clients and new clients--many of those in areas that Thompson has not traditionally serviced. Today, with numerous COVID-19 vaccines widely available and cases declining across the United States, we are able to share the important results of disinfection as a layer of protection, and to how our client's ongoing disinfection programs are keeping everyone even safer and more productive than we originally imagined.
Long-Term Cleaning Projects Preventing Positives
Perhaps the most striking example of success in the area of coronavirus disinfecting services is our work at a Florida power plant. This client requested help keeping the facility compliant with COVID-19 sanitation protocols, and our regional office responded with cleaning services seven days a week. After two months of cleaning all mobile office trailers on-site at the power plant, we are very proud to report that the facility has seen zero positive COVID-19 cases during our time of service there. ​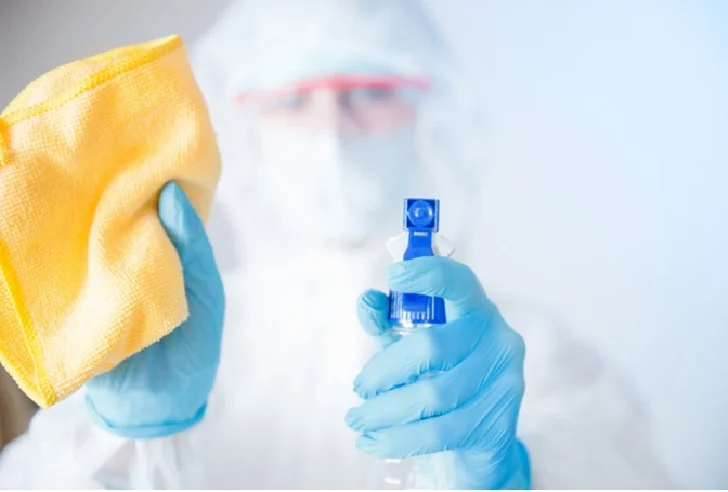 Thompson's coronavirus disinfecting services have had powerful results for clients.
We are also proud to partner with one of the largest coal power plants in the United States to provide disinfecting services Monday through Friday. Having our certified, expert technicians on site to disinfect surfaces and environments every workday helps employees at this site rest assured that they are being protected as fully as possible and allows them to focus on their critical work rather than on the threat of coronavirus transmission due to an unclean environment.
Each of our clients has a unique set of needs, and it's important that our disinfecting services be versatile enough to meet those needs perfectly. As an example, a pulp & paper mill in Tennessee chose to have our team come in on a bi-weekly basis to do a complete disinfection of their warehouse and office areas.
Avoiding Lost Work
The drastically reduced numbers of COVID-19 cases at these and our other disinfection clients' facilities are obviously the number one goal, and we are very gratified to know that our teams have been an integral part of keeping folks safe at work in many of our country's most important industries, including power generation, manufacturing, and oil & gas. The truth is, however, we have also seen a significant reduction in cases of other types of illnesses among workers at these facilities, most notably the flu. By reducing transmission of the flu and keeping employees safer from other communicable diseases, Thompson has helped facilities avoid lost work due to sickness in an already-challenging period.
Future Health and Safety Efforts
Vaccine availability, increased understanding of how COVID-19 is transmitted, and ongoing development of treatment options are all very welcome advantages that are undoubtedly lowering the threat of the pandemic. However, it's important to remember that with new variants emerging, many areas of the country still have significant restrictions in place and both commercial and industrial facilities are responsible to respect those restrictions and continue protecting their employees and guests from disease transmission. It is also important to note the overall lost work effects that disinfection can have for a facility in preventing illnesses of all types.
Thompson Industrial Services plans to continue offering these important disinfection services in a flexible manner so that every client has access to services that fully comply with their state and local guidelines. As public health experts remind us, there is much that is still unclear about COVID-19, and much additional research is needed before we fully understand prevention and treatment. In the meantime, Thompson is committed to partnering with our clients, as we always have, to provide services at the highest level of quality and integrity.
Whether you are a current client of Thompson and are interested in adding disinfection services at your facility, or whether you manage a commercial property and need a reliable provider that can tailor services to your particular needs, we hope that you will contact your regional Thompson office to determine the best approach for your business.