Blog Image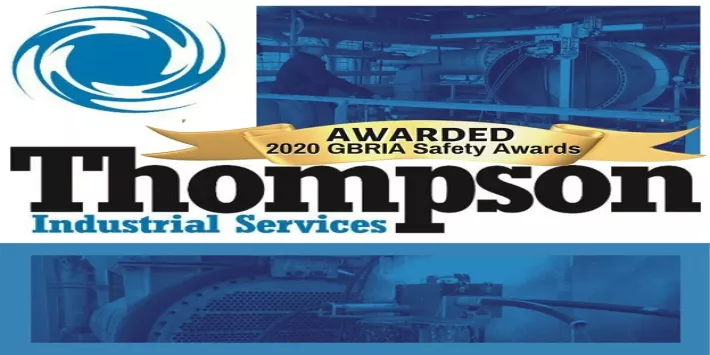 Press Releases
Thompson Industrial Services Appointed Third Place Award Winner
Baton Rouge, Louisiana, August 17, 2020
 "A Safety Milestone We Are Very Proud Of!"
FOR IMMEDIATE RELEASE: The Greater Baton Rouge Industry Alliance appointed winners of the 24th Annual Safety Awards. Thompson Industrial Services was awarded for General Construction & Maintenance, Division I.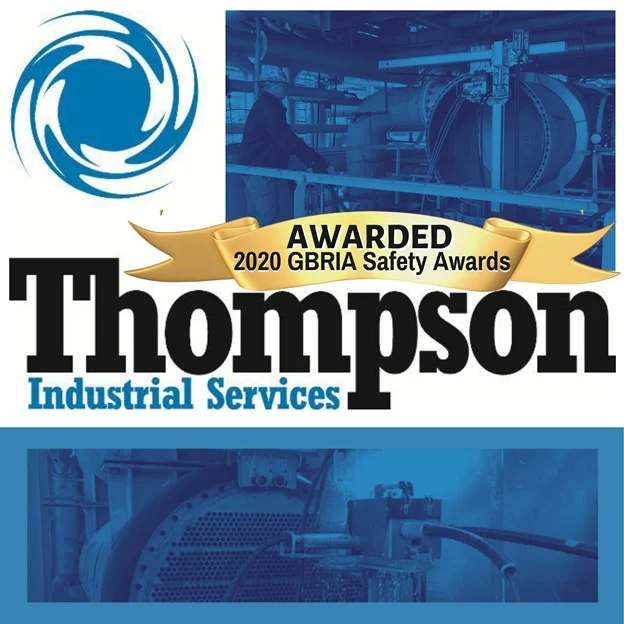 The prestigious recognition by the GBRIA is something regional industries strive to obtain. A company must maintain a work environment that surpasses others with a recording of less than 1.0 for the past 16 years. Thompson Industrial not only meets these qualifications but exceeds OSHA standards and the best safety practices which are industry-specific.
Safety Through Automation
The stringent safety practices include the use of automation to ensure the safety of employees. Thompson is quickly approaching 100%-Hands-Free Automation capability.
As innovation and technology advances, we evolve with equipment, training, and safety that's in line with those advancements. The use of remote control equipment enables us to reach areas that are otherwise dangerous or inaccessible. By doing so, cleaning is done quickly and in a much more thorough manner. Through our automation, you benefit by reducing your downtime and the expense that quickly racks up from manual labor.
Removes the dangers of water-related injuries that can occur with manually operated cleaning equipment.
It also protects the integrity of surfaces hydro blasting comes into contact with.
Cuts cleaning time in half and reduces required manpower.
It provides an option for cutting concrete or steel.
Eliminates the need for confined space entry permits.
 
High Standards of Safety
The safety practices Thompson Industrial has in place are higher than most regional industries. This is to ensure the safety of every person under the employ of Thompson. Safety goals and procedures are developed and enforced through specialized training and accountability.
Regular audits are done through data analysis. The valuable feedback through the data audits points out areas of success as well as those needing improvement.
To avoid complacency and promote safety awareness, behavior mitigation is in place to protect employees.
Customized checklists are developed for each site/task to further enforce safety measures.
Yearly safety trends are reviewed regularly to compare with current trends.
 
Thompson Industrial Services
Thompson Industrial Services, LLC, was founded in 1986. Sumter, South Carolina is where headquarters calls home. Service locations are scattered throughout the U.S. As a single-source industrial service, Thompson serves all phases of industrial cleaning.
Industrial services Thompson specializes in includes hydro blasting, vacuuming, chemical cleaning, pre-commission cleaning, hydro- and pneumatic-vacuum excavation, and decommissioning. Our specialties don't end here because we also do combustible dust remediation, FINFOAM(R) cleaning of air-cooled heat exchangers, HRSG cleaning, dry ice blasting, tank cleaning, industrial drone inspection, and COVID-19 disinfecting.
 
The "Thompson" Culture
Here at Thompson Industrial Services, you are met with old-fashioned hospitality and values with safety that is state of the art. We don't compromise on friendliness, customer service, quality, or safety. You get the very best when you hire us.
If you would like more information about our services or need a quote, we have someone available to take your call. We look forward to being the industrial cleaning service that will surpass your expectations! Contact us today!