Automated Hydroblasting Benefits a Paper Mill
BLOG
Blog Image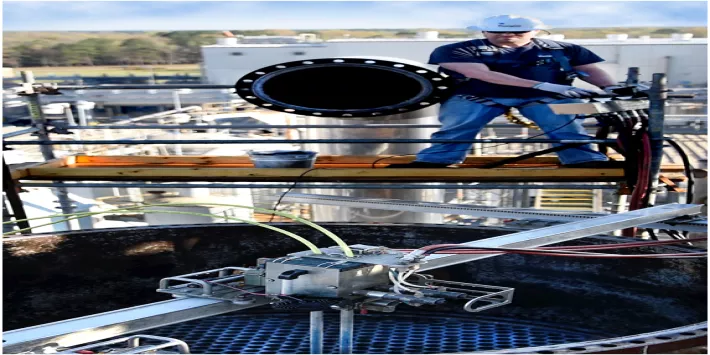 If you ask any of our clients what they like most about working with Thompson Industrial Services, there will undoubtedly be a few common answers. Our commitment to safety is one of the most mentioned factors during follow-up conversations. 
Another big one is our integrity and the many accountability measures we implement during each job, including reports detailing improvements in efficiency following a job. A third popular benefit is the fact that our continually developing automation methods cut down on the amount of downtime needed for routine maintenance tasks. At a paper mill in Georgia, this minimized downtime was on display during a recent evaporator cleaning job. Since we had performed the same process in the past using hands-on techniques, it was easy for us to compare those results with those of our automated approach, and there was quite a difference, as you will see.
Evaporator Tube Hydroblasting
At the paper mill in question, two evaporators had lost efficiency due to plugging. Our task, as before, was to unplug the evaporator tubes during scheduled downtime and get the equipment running normally again. Each evaporator has about 2,000 tubes, and 60 and 20 percent of the tubes, respectively, were plugged. The time-consuming, tedious nature of clearing the tubes is already obvious, but the situation is made worse by the fact that the tubes are only accessible through confined spaces.
During hydroblasting by hand, these confined spaces create a serious safety hazard for the technician and slow down the cleaning process quite a bit.In the past, the job required seven to eight twelve-hour shifts, with ten technicians on each shift and two water pumps operating the entire time. While manufacturing plants have largely grown accustomed to these lengthy outages for routine maintenance, in many cases our technology is changing the game and getting equipment back online much more quickly.
Automated Hydroblasting Cuts Downtime Drastically
Instead of hydroblasting by hand, this time our team implemented a complex system of powerful hydroblasting equipment, manipulated by a triple flex lance machine. Our operators controlled the equipment from a distance, keeping them out of the hazardous confined spaces and actually giving them greater control over the tooling.Because the automated hydroblasting does most of the work, we only needed four men per shift instead of ten. In addition, we only ran one pump instead of two. And because the automated equipment cleans with full pressure on both the upward and downward stroke, our team actually performed twice as much cleaning in total as they would with a hands-on approach.
The savings associated with this manpower and equipment reduction alone for the paper mill totaled $60,000.Even better, the cleaning work was completely finished in less than five twelve-hour shifts instead of eight. By the time our team left the site, the evaporator tubes were 100% clear and ready to resume normal operations.
Many factors resulted in the shorter timeframe; for instance, with no confined space entry by our personnel, we avoided the associated safety precautions. Additionally, the automated positioners are so precise and powerful that the actual hydroblasting work takes place much more quickly than when the equipment is in the hands of human technicians.
Important Benefits for Paper Mills
These dramatic cost-saving results have attracted the attention of those in the pulp and paper mill industry, particularly in the southeastern U.S. These facilities often rely on units with confined spaces, long-neglected cleaning needs, and debris buildup that is very difficult to remove.
Automated hydroblasting solutions like the one we used at the Georgia paper mill often present ideal answers to questions that paper mill managers have been asking for decades.This story is just one example of the many solutions that our researchers are constantly developing in order to better serve our industrial and commercial clients.
Every time we are able to accelerate a boiler, evaporator, or heat exchanger cleaning project using automated tooling, we save thousands of dollars for our clients without sacrificing anything in the way of quality. In fact, the more powerful equipment and higher level of precision gets equipment more thoroughly clean than ever before.
We invite you to read through our blog's archives for many more accounts of maintenance calls dramatically shortened through automated approaches. To discuss your facility's industrial cleaning, clean excavation, or waste vacuum needs, contact us today!