Thompson Introduces Automated Tank Cleaning
NEWS
Blog Image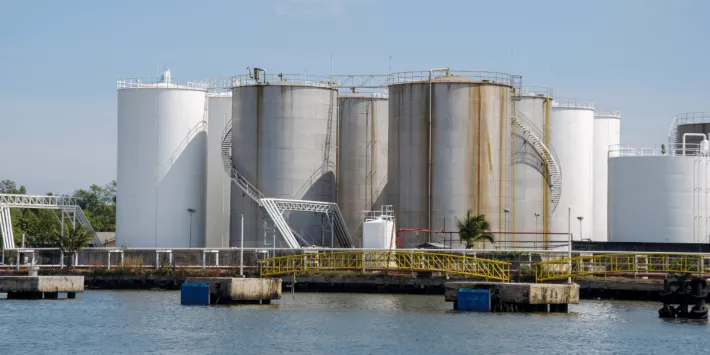 Here at Thompson Industrial Services, we have made yet another step along the way toward our goal of becoming 100% automated. The newest service area to benefit from our decades of research into automated, remotely controlled technologies (like industry 4.0) is tank cleaning, a very challenging area that has always posed significant difficulties to service providers like us.
As you will see, through the development of several different advanced tools we have increased the speed, efficiency, and most importantly the safety of our tank cleaning activities.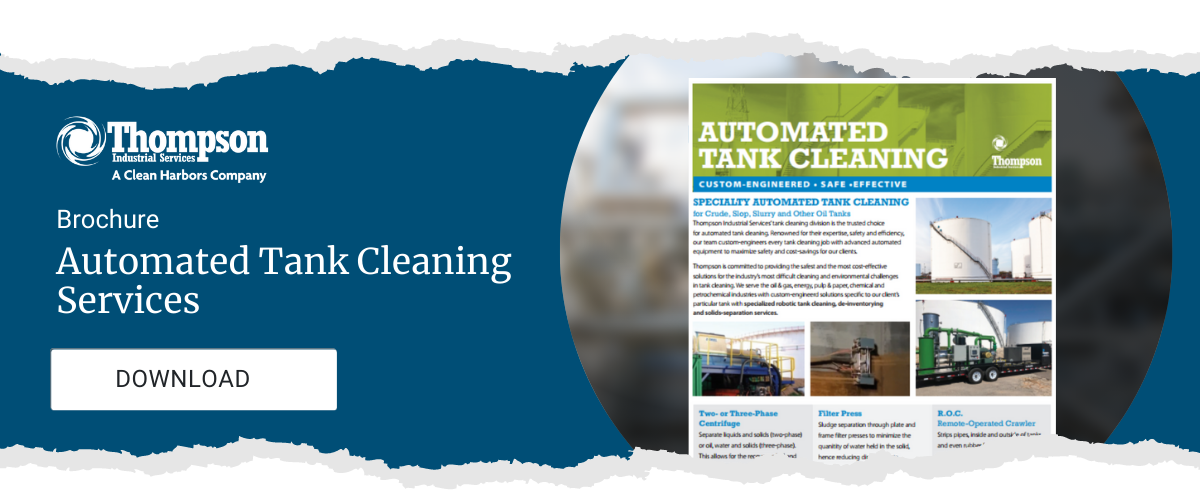 ROV/ROC Technology
The most striking element of our automated tank cleaning service is the use of a remotely operated crawler (ROC) to carry and manipulate the hydroblasting equipment that strips off deposits, sludge, and even rubber linings from the interior of our clients' tanks. Our ROV requires a manway just 24 inches wide for access, and it is mounted with a vertically adjustable water cannon capable of washing the roof, walls, and floor of the vessel with remote adjustments made by operators.
The ROC, which can be seen in action in the demo videos on our website, is a crawler designed to strip the toughest of debris deposits and sludge from interior and exterior surfaces. This includes vessel walls and pipes that have years' worth or many layers of debris that must be removed.
Manway Cannon and Tank Sweep
These two tools give Thompson Industrial Services' automated tank cleaning teams additional ability to address more specific challenges with maximum efficiency and safety. Our camera manway cannon is mounted to any standard manway, ranging in diameters from 18" to 36", and liquefies sludge in preparation for removal, all while keeping the tank sealed. This eliminates not only the need to send a human technician inside the tank, but also the need for vapor recovery measures and associated disposal costs.
The tank sweep is another non-entry application, focused on tanks with high solid levels. The extreme efficiency of this cleaning method saves our clients money through the reduction of waste products and minimized downtime for cleaning projects. It also recovers higher hydrocarbon levels than traditional methods, making it better for the environment.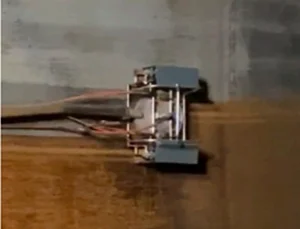 Our ROC quickly and safely strips debris from surfaces.
Solids-Separation Services
This component of our automated tank cleaning service adds additional cost savings, safety, and minimized environmental impact to your project. Depending on the waste removed from the tank, we use a two-stage or three-stage centrifuge process to separate liquids and solids (two-stage) or oil, water, and solids (three-stage). This step, handled by our expert teams, enables recovery of oil and streamlines the disposal of solids as much as possible.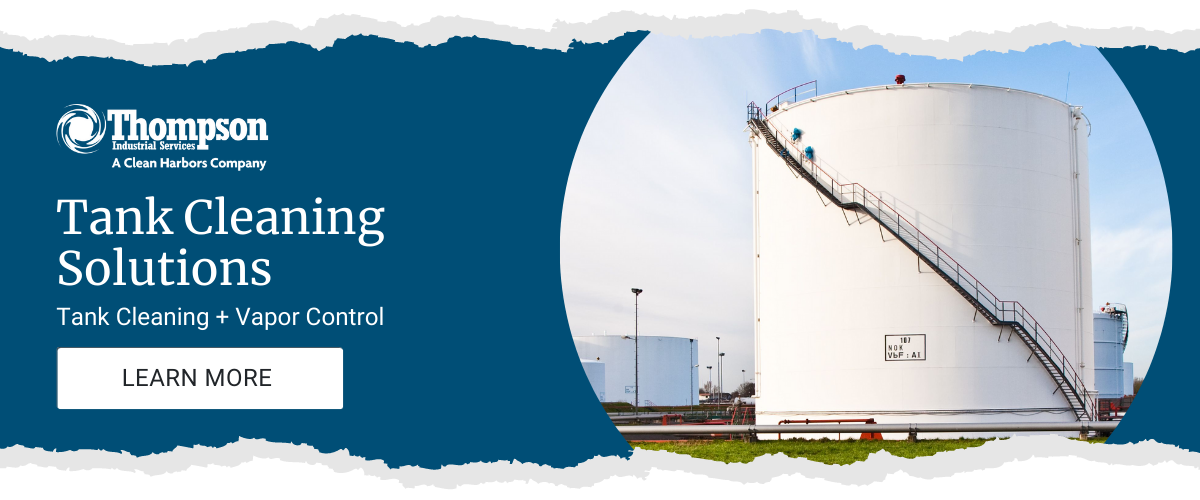 Varied Applications
As with so many of the applications at Thompson Industrial Services, our automated tank cleaning benefits clients in many different fields. We have longstanding, powerful partnerships with clients in the pulp & paper, oil & gas, petrochemical, and chemical industries among many others, as plant managers and turnaround specialists have learned that they can trust the teams from their regional TIS office to conduct every project with safety, integrity, creativity, and efficiency.
Our automated approach to tank cleaning and hydroblasting of other equipment has changed the way the industry thinks about outages, downtime, and what to expect from an industrial services provider.
Continued Commitment to Automation
We at Thompson are very excited about what our automated tank cleaning service represents--a continuation of our decades-long commitment to making all of our services as efficient and safe as possible by using remotely controlled equipment in every potential circumstance, rather than placing human technicians with manual equipment in the same application. This push is a large part of what made 2020 our company's safest year ever, and we aim to continue automating more services as technology advances.
As powerful as any technology is, whether that be for water conservation, solids control or industrial cleaning, it is only as effective as the humans that use it. Our automated solutions are supported by our outage management teams (OMTs), who use their decades of on-the-ground experience and training to plan our clients' outages in great detail. This human expertise takes our automated tools to their fullest potential, giving our clients the shortest downtimes, cleanest equipment, and overall best results they have ever seen.
Custom tank cleaning solutions
In addition to these tank cleaning methods, Thompson Industrial Services has the ability to custom-engineer the perfect tank-cleaning solution for your business. By custom-designing tank cleaning solutions uniquely tailored to your needs, Thompson Industrial Services is able to provide a more effective, more efficient service — reducing downtime and increasing productivity. 
Get in touch with your nearest Thompson Industrial Services regional office to learn more about the benefits of automated tank cleaning for your site.